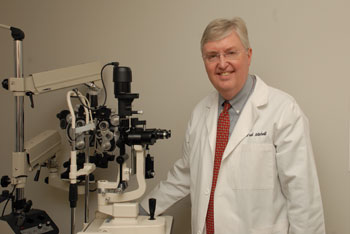 Dr. Fred Mitchell
Dr. Fred Mitchell grew up in Goldsboro graduating from Goldsboro High School. He attended East Carolina University and Southern College of Optometry in Memphis, Tennessee earning a Bachelor of Science in Biology and Physics and a Doctor of Optometry degree. He served on active duty for two years as a United States Navy Optometrist at the Naval Hospital Camp Pendleton, California before going into private practice in Goldsboro, North Carolina. He served in the Naval rank of Lieutenant Commander. He has been involved as a youth leader in the YMCA Indian Princess and Indian Guide programs, Cub Scouts, and Boy Scouts of America. He is a member of First Presbyterian Church of Goldsboro having served as the chairman of the Diaconate. He is a member of the American Optometric Association, North Carolina Optometric Association, and the Eastern Regional Optometric Association. His interests are in general eye care, contact lenses, and eye disease diagnosis and treatment. He is a partner in Mitchell Eye Center. He is married and has two children and two Golden retrievers.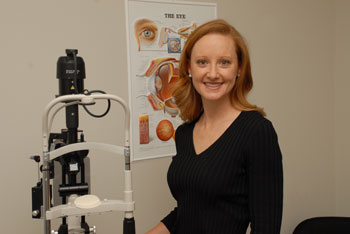 Dr. Sallie Wahl
Dr. Sallie Wahl, daughter of Dr Pete Mitchell, was born and raised in Goldsboro. She received her undergraduate degree at the University of North Carolina at Chapel Hill, and her optometry degree from the Pennsylvania College of Optometry at Salus University. Dr. Sallie is currently accepting new patients at our Goldsboro office.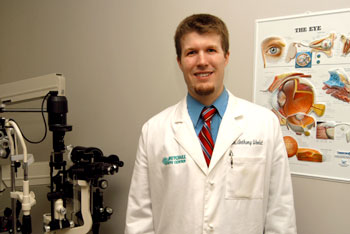 Dr. Anthony Woolet
Dr. Anthony Woolet grew up in Raleigh, North Carolina. After receiving his Bachelor's Degree in chemistry from North Carolina State University he went on to receive his Doctor of Optometry degree from The Pennsylvania College of Optometry at Salus University in Philadelphia, Pennsylvania. Dr. Woolet is a member of the American Optometric Association and the North Carolina State Optometric Society. He currently serves on the Wayne County Board of Health. He enjoys golfing and spending time with his family. He currently resides in Goldsboro with his wife Maggie and three boys Gavin, Grayden and Graham.