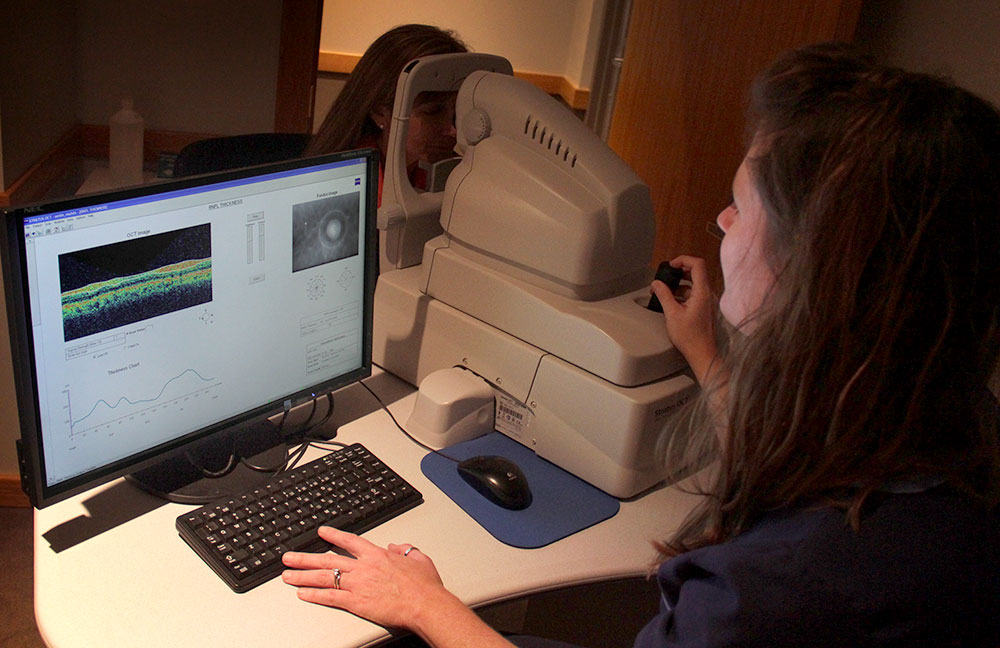 Mitchell Eye Center offers a full range of professional eye services including eye examinations, eye disease diagnosis and treatment, children's vision, adult vision care, complete contact lens care, surgical pre and post operative care including refractive surgery, and a full service optical shop.
The doctors at Mitchell Eye Center are trained in the detection, diagnosis, and treatment of eye diseases. One of our doctors is always on call 24 hours a day, 7 days a week for ocular medical emergencies.
Mitchell Eye Center uses modern, sophisticated computerized instrumentation including the Zeiss Optical Coherence Tomograph for the diagnosis and monitoring of glaucoma and diabetic macular edema. Our computerized refracting instruments make eyeglass prescriptions more accurate, and possible for those who cannot respond verbally or for young children. Our in house optical lab uses patternless computerized edging technology to assure the best in eyeglass fabrication.
Many serious eye diseases occur in the back of the eye in the retina and optic nerve. The doctors at Mitchell Eye Center use digital imaging photography to evaluate those areas in detail. This technology is also used to compare the retina and optic nerve over time, as any possible changes in appearance can indicate eye disease.
Mitchell Eye Center has eye surgeons available for our patient's surgical needs. Mitchell Eye Center has access to the best eye surgeons and eye specialists at the major medical centers in North Carolina including Duke University, University of North Carolina at Chapel Hill, and the East Carolina University Medical Center in Greenville.
Whatever your eye care needs may be, Mitchell Eye Center can help you find solutions to your problems.